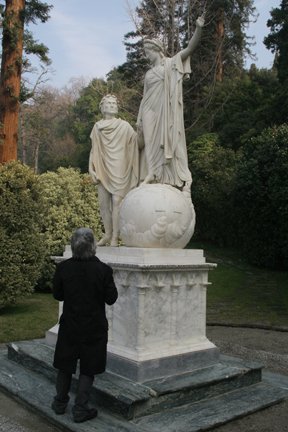 There are many people that have attempted to make a difference in the world for the good of humankind.
In 2008, Boris Acosta accomplished a task that no Italian had been able to do in 700 years. He got "Dante Alighieri pardoned from exile" after he petitioned it in a letter to Matteo Renzi, Florence's Mayor at the time. Click here to read it.
I have been directing films since 1980 and during that time I've had the pleasure of meeting many interesting people, including Tom Hanks, all sharing the same desire to express their talent in some way. Only those individuals with great tenacity, perseverance, and talent achieve that. I believe such an individual is Boris Acosta. Armand Mastroianni
Boris Acosta's journey in Dante's world began much earlier than when he decided to study everything Dante wrote. It really began when he was a teenager with his refusal to read The Divine Comedy, simply because he wanted to study it and study it the way Dante wrote it, in primitive Italian. So, later in his life at the age of 24, when he moved to Los Angeles as an engineering student, he learned about UCLA general requirements and realized that while complying with the university rules, he could accomplish one of his dreams. So, he enrolled in all courses to study Dante's Divine Comedy first, and later all other minor works Dante wrote. This changed his life forever; he never saw the world like it apparently was, but through Dante's eyes, the way it sadly is. It was a shocking experience, but after all, that is what Dante has done for over seven centuries, to shock all his readers. Dante Alighieri's masterpiece - The Divine Comedy – Hell, Purgatory, and Paradise, is known as the greatest Christian story every told, after The Gospel.
Since then, Boris Acosta has devoted 21 years of his life to the realization of art, books, films and music based on The Divine Comedy, with a dedication truly admirable.
During the last 15 years, Mr. Acosta received official invitations from several world known institutions. First in 2008, from University of California at Los Angeles (UCLA), to screen a work-in-progess documentary under the working title Dante's Inferno. Later on, he was invited by the Sapienza Università di Roma, Italy, to screen, another yet work-in-progress film, Inferno Dantesco Animato, on December 1, 2012 as the closing film of the "Dante in Cinema" event. The following year, he was invited to screen it at the University of California at Los Angeles (UCLA), which screened on March 3, 2013. In both opportunities, he presented his animations to the most demanding academic audience, who responded with overwhelming applauses. Two years later, in February 2015, Mr. Acosta was invited to screen both Dante's Inferno - Abandon All Hope, and Dante's Hell Animated at the Italian Cultural Institute in Los Angeles where reservations exceeded its capacity. Afterward, he received high press reviews by L'Italo Americano and others.
His latest accomplishment,Dante's Hell a feature length hybrid film premiered at the Ravenna Nightmare film festival as a virtual event during the Covid-19 crisis. The film was screened every day for the entire duration of the festival from October to November 2020. Previously, Dante's Hell was screened at the Cannes Marche Du Film as a work-in-progress, where it got rave reviews, see them all on the Press page here. This highly acclaimed hybrid film features the renewed entire 75-piece art collection by Dino Di Durante based on Dante's Inferno story. The first set is available in books at Amazon in 33 languages in paperback and ebook formats. Click here to view all options. Dante's Hell trailer as well as all other trailers can be watched on the Films page of this website.